COMPAGNIE FRIEDA -
'Wereld, einde van een'
COMPAGNIE FRIEDA -
'Wereld, einde van een'
DOOMSDAY STUDENT (vs, Arab On Radar)
OP LOCATIE!!
Volxkeuken Deluxe
She Sells Seashells
Soldier's Heart
Hear Hear A Cheer
CHARANJIT SINGH (india)
"Ten Ragas to a Disco Beat"
HEEMS (vs)
ZAK PATAT
UP HIGH Collective
Moodprint, Natte Dröm
HARE AKEDOD V:
HIGH WOLF (fr)
PLANKTON WAT (vs)
OTARK Volkskeuken
KONTRA 16mm Filmvertoning
"SLOW ACTION" Ben Rivers
THULEBASEN (dk)
FYOELK (d)
COMMON Café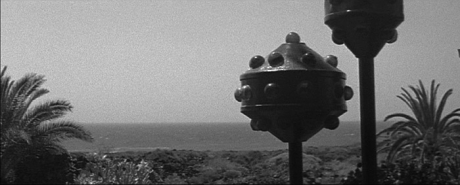 KONTRA 16mm Filmvertoning
"SLOW ACTION" Ben Rivers
21:00
"SLOW ACTION" Ben Rivers (UK, 2010, 45')
Een post-apocalyptisch 16mm science fiction film bestaande uit een reeks van vier hoofdstukken balancerend op de grens van documentaire, etnografisch onderzoek en fictie.
Slow Action, gefilmt op specifieke plekken als Lanzarote, Gunkanjima, Tuvalu en Somerset, handelt over het idee van biogeography – de studie over hoe levensvormen en ecosystemen anders evolueren wanneer ze geisoleerd zijn in een onpasselijke habitat – en toont een fictieve blik op de aarde binnen honderden jaren; hyperbolische utopien en potentiele mini-samenlevingen gecreerd door toenemende natuurfenomenen.
verwant
KONTRA KONTAINER
KONTRA KONTAINER
Kontra Cinema
"Les RELIGIONS SAUVAGES"
Kontra Cinema
"The Corporation"
KONTRA openluchtfilm:
"Afropunk:
The Rock n Roll Nigger Experience"
KONTRA stelt voor:
De Letterleggers
Kontra Cinema
"HAUTE TENSION" + "RUBBER JOHNNY"
Kontra Cinema
"CARLOS"
feeds
nieuws-feeds
hoe werken de feeds?