KAKBEK 2: DREKNEK
DANIEL HIGGS [VS] / GROUPER [VS]
KISS THE ANUS OF A BLACK CAT [BE]
BLACKIE & THE OOHOOS
ORPHAN FAIRYTALE
I H8 CAMERA
THE PRELUDES / DATURA
Volxkeuken
TULIP, die singende Tulpe [DE]
DE MACHT VAN DE NUZIKANT ! BATTLE OF THE DRUMMERS
PAPIER TIGRE [FR]
FORDAMAGE [FR]
GASOLINE DC [BE]
KODIAK [BE]
LOST FILM FEST [VS]
LAB WASTE [VS] !!!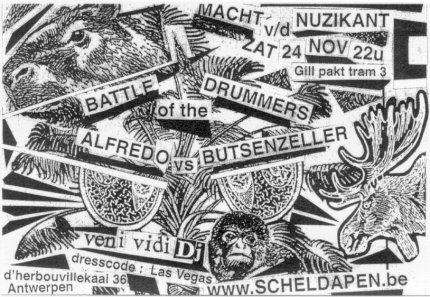 verwant
La fête des allumeuses
OW + HAPPY FEW
DE MACHT VAN DE NUZIKANT ! BATTLE OF THE DRUMMERS
FLASHDANCE night
A CLEAN KITCHEN IS A HAPPY KITCHEN
ALBUM RELEASE
BUTSENZELLER 'NATT' LP RELEASE
HITCH (BE)
THUNDER HEART MACHINE (BE)
feeds
nieuws-feeds
hoe werken de feeds?