ULTRA ECZEMA KNIGHT / SUBLIME FREQUENCIES
MOKT LAWIJT
Bar 219 / Heartbreak Tunes party
K-filmfest presenteert:
ULTRA ECZEMA NIGHT
WOFO / THE BLIND PILOTS IMPROVISERS ORCHESTRA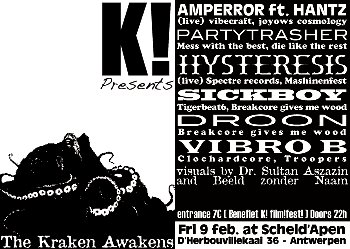 verwant
K-filmfest presenteert:
DOORMOUSE
SICKBOY, DROON, BEATLIP
HARD-OFF & SAHSELECTER
SICKBOY and FRIENDS present: "CLASSICK"
SICKBOY & FRIENDS
GUM TAKES TOOTH (vk)
AUTHOR & PUNISHER
DJ SICKBOY
9 JAAR SCHELD'APEN !!!
Scheld'apen en Wood Presenteren:
FATHME RECORDS ON TOUR...breakcore!
BLAST :
SICKBOY
ZERO TOLERANCE
SCARECROW
HYSTERESIS
feeds
nieuws-feeds
hoe werken de feeds?