TRANS AM (vs)
LAZER CRYSTAL (vs)
MIDNIGHT GALAXY (be)
Volxkeuken Deluxe
EUGENE CHADBOURNE (vs)
VERNISSAGE POP ART in het NICC
Volxkeuken Deluxe
DETLEV / OBAN
Volxkeuken Deluxe
CARTUNE XPREZ (film/performance)
VAN'T STRAAT FESTIVAL
ELL CIRCO D'ELL FUEGO
THE DUMP BROTHERS
CAPSULE "REDUX" cd-release
Walking EXPOoo
Volxkeuken Deluxe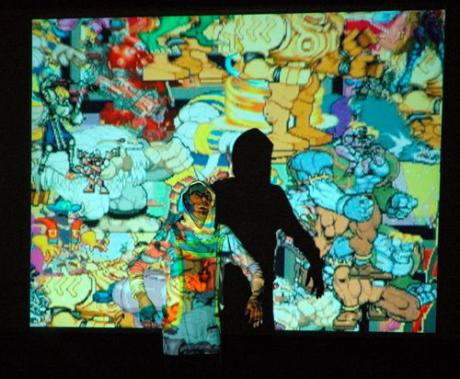 CARTUNE XPREZ (film/performance)
21:00
"Part live video theater, part psychedelic insurrection, part cartoon road show, we harness the energies of video artists who remix commercial imagery to the extent of anarchy and animate their way out of Sunday Morning Cartoons.
Our touring programs have become a touchstone of the genre, with this upcoming program offering a rare opportunity to see innovative animated videos from around the world. Adding to the spectacle, Peter Burr and Christopher Doulgeris' Hooliganship will combine videos, music, and installation to create an electroluminescent stage show."
This program includes work by:
Nate Boyce, Martha Colburn, Sebastian Buerkner, Taras Hrabowsky, Rimas Sakalauskas, Christine Gensheimer, Brandon Blommaert, Jim Trainor, Allison Schulnik, David Daniels and others..
verwant
CARTUNE XPREZ (film/performance)
Kontra Cinema
Jan Svankmajer + the brothers Quay
Kontra Cinema
"BAREFOOT GEN"
TV CENTRAAL 2.0 !
Kontra Cinema
"CARLOS"
Kontra Cinema
"LES REVENANTS"
J.X. WILLIAMS - OTHER CINEMA (VS)
DE CONFERENTIE deel II
PETER FENGLER
TIAGO SOUSA
PIETER VAN DEN BOSCH
'SPACY' - TAKASHI ITO
THE UNHOLY presents 'SHADOW THEATRE'
feeds
nieuws-feeds
hoe werken de feeds?