Volxkeuken Deluxe
RIJMTECHNIEKERS (B)
PHILLIBUSTAS (B)
NASTA en NIZ (B)
Volxkeuken Deluxe
Caro's Birthday Party
KAKBEK 4
RETURN OF THE KAK
Tuning People speelt WORM
+ concert: Echo Beatty
Tuning People speelt WORM
Volxkeuken Deluxe
TOBSCENE
Tuning People speelt WORM
RUFFSKOOL V
Volxkeuken Deluxe
MICROOB
12 JAAR ULTRA ECZEMA !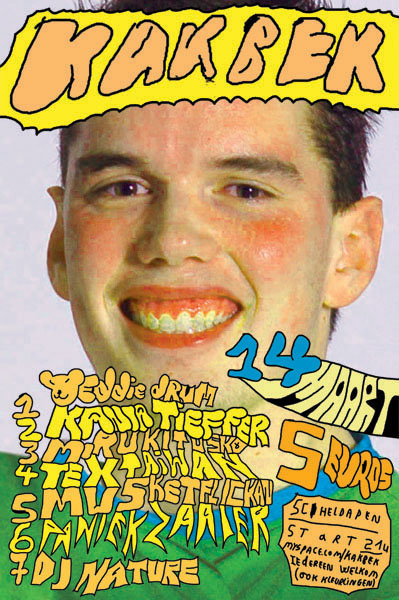 KAKBEK 4
RETURN OF THE KAK
22:00
TEDDIEDRUM
8 bit electropoprock. The usual trash maar gecomponeerd door kerels die weten hoe een song ineen steekt. sideproject van The violent husbands. YES!
KANIA TIEFFER
Deze Brusselse Babe zette de tweede editie van Kakbek in vuur en drek. She's back met goldie oldies en noObies. Happy melodies op pcp en Meth. SOUNDS LIKE FUN !
www.myspace.com/kaniatiefferagainstthemachine
MIRUKI TUSKO
Exclusief op kakbek, de man die je oren doet bloeien van gelukzaligheid. Eindelijk terug met nieuwe shit. Ook deze keer doet hij de art work.
CATCHY LIKE HERPES.
TEX TAIWAN
Het Belgische antwoord op kap bambino en crystal castles. Deze Bloeddorstige schone en haar 'nerdy chique' boyfriend rammen de nintendoblips, clicks and beats en onweerstaanbaar onverstaanbare teksten in uw strot. just the way we like it. YUMMY!
MUSKETFLICKAN
Twee (hete) grietjes spinning the ipods with waving pleasure. WET DREAM COME TRUE !
DJ NATURE aka DJ RAAK ME AAN aka DJ 7anjers7rozen
Brengt het oeuvre van moeder natuur in zijn ongerepte glorie.KEI HARD GAAN!
SPECIAL SUPRISE ACT TOP SECRET 007 MORE TO BE ANNOUNCED
Check de site voor updates
verwant
KAKBEK 4
RETURN OF THE KAK
KAKBEK 5: GANGSTA'S PARADISE!
CURSE OV DIALECT (AU)
RAASKALBOMFUKKERZ (NL)
THX1983
NORMANHOFFMAN
KAKCLUB / NUTSBEK:
DYNOO, CUPP CAVE
MIDNIGHT GALAXY
THX 1983
15 JAAR ULTRA ECZEMA deel 1!
GHEDALIA TAZARTES
CHRIS CORSANO
DENNIS TYFUS
DIAMOND CATALOG
OVO (I) + KANIA TIEFFER (B)
KAKBEK 10.1
COCOBRYCE (nl)
TITLE (be)
GANGPOL & MIT (fr)
+ EEKHOORN X
KAKBEK VII : LICENSE TO KAK
feeds
nieuws-feeds
hoe werken de feeds?