TRANS AM (vs)
LAZER CRYSTAL (vs)
MIDNIGHT GALAXY (be)
Volxkeuken Deluxe
EUGENE CHADBOURNE (vs)
VERNISSAGE POP ART in het NICC
Volxkeuken Deluxe
DETLEV / OBAN
Volxkeuken Deluxe
CARTUNE XPREZ (film/performance)
VAN'T STRAAT FESTIVAL
ELL CIRCO D'ELL FUEGO
THE DUMP BROTHERS
CAPSULE "REDUX" cd-release
Walking EXPOoo
Volxkeuken Deluxe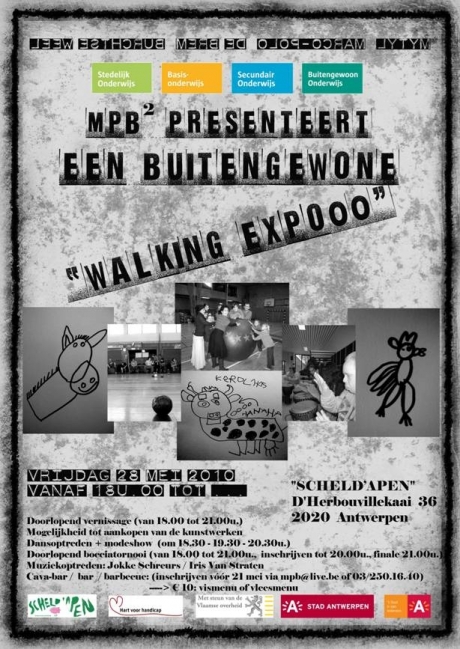 Walking EXPOoo
18:00
De leerlingen uit verschillende scholen, zowel uit het gewone als het buitengewone onderwijs, uit lagere en hogere graden, stellen een expo samen van eigen werk.
Vanaf 18u kan u hier terecht voor een vernissage van leerlingen van Burchtse Weel & Auticant, Stedelijk Mytylinstituut, Siso Marco Polo en lagere school de Brem.
Er zullen rondleidingen gegeven worden om 18u30, om 19u30 en om 20u30 zodat u niets hoeft te missen van de rolstoeldansen, modeshow, beeldende en uitbeeldende kunsten, foto's en schilder- en beeldhouwwerkjes.
Volxkeuken Deluxe
19:00
De volkxkeuken deluxe wordt voor deze maal een barbeque, voorzien door de busoleerlingen!!
verwant
Walking EXPOoo
inhuldiging VOETBALSTADION PETROLEUM ZUID!!
DRUKDRUKDRUK EXPO
PETROL ZUID PAKT UIT
ROSE TURTLERTLER
ONE LOUDER
MASKESMACHINE: de video
Ateliers deMakerij
fluxfilm
Volxkeuken
WERKKAMP 010: DAG VAN DE GLUURDER
Voor al dan niet bejaarde kinderen!
YOU CAN'T HAVE YOUR CAKE AND EAT IT
PETROL ZUID PAKT UIT
BRIENTJE vertelt
Baa de GILLES aan den toog
antwerp ATTITUDE
TYFUS & kevin johnson
IDEAL TOWER
Luxe Volxkeuken
WERKKAMP 010: Kijkdrift !
FEEST VAN DE GLUURDER
feeds
nieuws-feeds
hoe werken de feeds?