TRANS AM (vs)
LAZER CRYSTAL (vs)
MIDNIGHT GALAXY (be)
Volxkeuken Deluxe
EUGENE CHADBOURNE (vs)
VERNISSAGE POP ART in het NICC
Volxkeuken Deluxe
DETLEV / OBAN
Volxkeuken Deluxe
CARTUNE XPREZ (film/performance)
VAN'T STRAAT FESTIVAL
ELL CIRCO D'ELL FUEGO
THE DUMP BROTHERS
CAPSULE "REDUX" cd-release
Walking EXPOoo
Volxkeuken Deluxe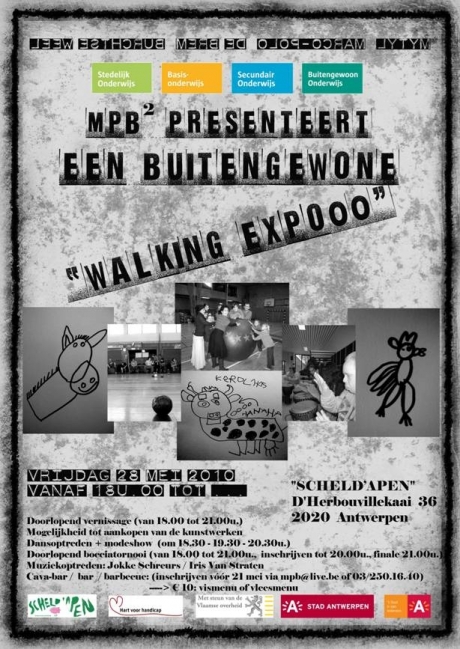 Walking EXPOoo
18:00
De leerlingen uit verschillende scholen, zowel uit het gewone als het buitengewone onderwijs, uit lagere en hogere graden, stellen een expo samen van eigen werk.
Vanaf 18u kan u hier terecht voor een vernissage van leerlingen van Burchtse Weel & Auticant, Stedelijk Mytylinstituut, Siso Marco Polo en lagere school de Brem.
Er zullen rondleidingen gegeven worden om 18u30, om 19u30 en om 20u30 zodat u niets hoeft te missen van de rolstoeldansen, modeshow, beeldende en uitbeeldende kunsten, foto's en schilder- en beeldhouwwerkjes.
Volxkeuken Deluxe
19:00
De volkxkeuken deluxe wordt voor deze maal een barbeque, voorzien door de busoleerlingen!!
verwant
Walking EXPOoo
inhuldiging VOETBALSTADION PETROLEUM ZUID!!
DRUKDRUKDRUK EXPO
Expo / MOBILE UNIT
YOU CAN'T HAVE YOUR CAKE AND EAT IT
PETROL ZUID PAKT UIT
MONGUITO
Dj Stroheim & tomislav
Dj's H&C (stereophonic)
MAGIK MARKERS (VS)
PARK ATTACK (UK)
TUTO FUZZI (DE)
WAANZIN
feeds
nieuws-feeds
hoe werken de feeds?