15 JAAR SCHELD'APEN !
VOLKSDANSFEEST
JOOKLO UND METABOLISMUS
CONGREGATION OF SPIRITS
COLAVITTEL
ZAK PATAT!
OTARKINO!
FEESTDAGDAGFEEST!
BOBBY CONN (vs)
ULTRA ECZEMA'S BRUISMELK FESTIVAL
MATT KREFTING (vs)
MONOPOLY CHILD STAR SEARCHERS (vs)
THE AFTER LUCY EXPERIMENT
SHARON GAL (uk)
ASTOR (uk)
RODEOFEST 2013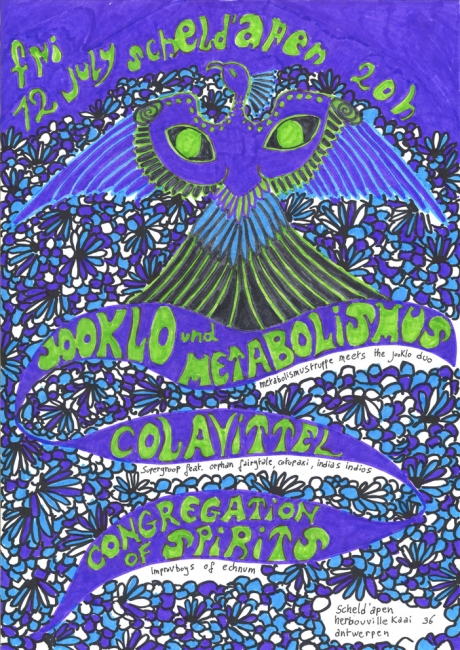 LOCATIE: Scheld'apen, d'Herbouvillekaai 36, 2020 A'pen
JOOKLO UND METABOLISMUS
CONGREGATION OF SPIRITS
COLAVITTEL
20:00
JOOKLO und METABOLISMUS (it, de)
" .. the Jooklo Duo stopped by the sensational Sumsilobatem studio in western Germany, on October 2012. While travelling with fellow Jeremie Sauvage (bassist of "France"), the couple arranged this outstanding meeting with the Metabolismus collective. Prepare your whole being to dive between the most fragmented and freaked out improvisations and transcendental tapes' manipulations, through metaphysic winds and surreal impressions. Drop out the illusion and break beyond the borders of your Self, squeezing every particle in a limbus of unpredictable visions. All the eight musicians playing here helps you strongly to do so, try to believe. Full analogue recording which features an arsenal of instruments: alto clarinet, bass recorder, tenor and soprano saxophones, mellotron, vibraphone, grand piano, analogue synthesizers (the legendary EMS Synthi 100, Yamaha CS 80, Maestro Woodwind), electric bass, guitar, tanpura, a tons of percussions and much more. "
http://troglosound.altervista.org
COLAVITTEL (be, de, cl)
Superimprovpopgroep bestaande uit Eva Van Deuren (Orphan Fairytale), Johann Kauth (Stenze Quo), Hannah Giese (Moemlien) en Benjamin Altermatt Zordan (Indias Indios).
"Some unofficial sources believe they came-up with forming a band after many years of performing solo shows and keeping the Paraguayan underground scene alive thanks to their contribution to the "club desmotivado" art collective in Asuncion. Their sound has different influences; like early italian new wave, atlantic cruiseship disco nights and finnish frog dance choreography to name a few."
CONGREGATION OF SPIRITS (cl)
Improvboys of Echnum!
verwant
JOOKLO UND METABOLISMUS
CONGREGATION OF SPIRITS
COLAVITTEL
WERKKAMP OPENINGSFEEST!
BUVETTE (ch)
FELIXBROD-HARARI-ZIBLAT (il)
JOZEF VAN WISSEM (nl/vs)
HELLVETE (be)
MIAUX (be)
EDGAR WAPPENHALTER (be)
MITTLAND OCH LEO (be)
+ MEER!
CONTAINER
UNICORN HARD-ON
MOEMLIEN
LASER POODLE
MARCEL DU SWAMP
DJ LIEVEN MOANA, SNOID & FOOM
HARE AKEDOD III:
EXPO 70 (vs)
ANCIENT OCEAN (vs)
SUNNY DUNES (fr)
DREAM OR DIE 2 !
CHRIS CORSANO / DENNIS TYFUS duo
MILAN W + LOUIS H
MILLS BOOGIE
SHARRIVARRI + BRAMOK
THULEBASEN (dk)
FYOELK (d)
CLIFFORD TORUS + STAER !
BLETCHLY RULES! fest
ACTION BEAT, DON ZERO, HIRED MUSCLE,
DUKE OF ZUKE, BAD BODY, TAPE DECK ORCHESTRA
feeds
nieuws-feeds
hoe werken de feeds?